Our Industry Experience
Every day, hospitals and health systems rely on Lightstream to help them increase patient volume, build their physician base, engage and educate the community, and communicate with employees while maintaining and building their brand. Scroll down to see the types of projects we complete for our clients across the country on a daily basis.
Annual Reports
Communicate your achievements to key stakeholders with a well-written, visually appealing annual report.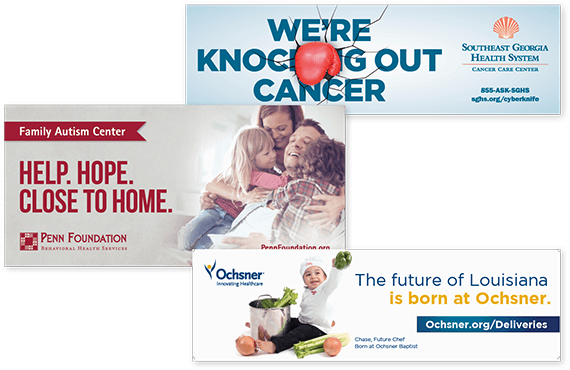 Billboards
Take your brand to new heights with outdoor advertising that geo-targets a specific audience or strengthens a campaign.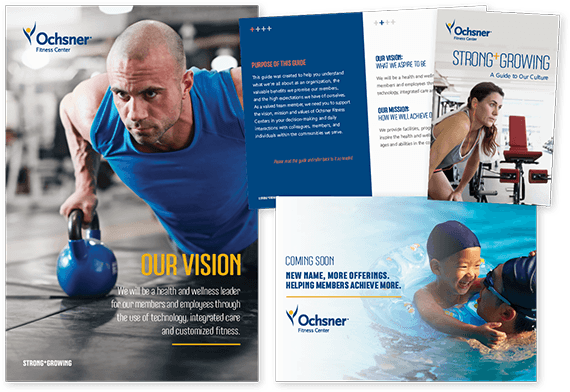 Branding
Does your brand need a slight refresh or a total rework? Let our brand exploration process provide the answers and increase your brand equity.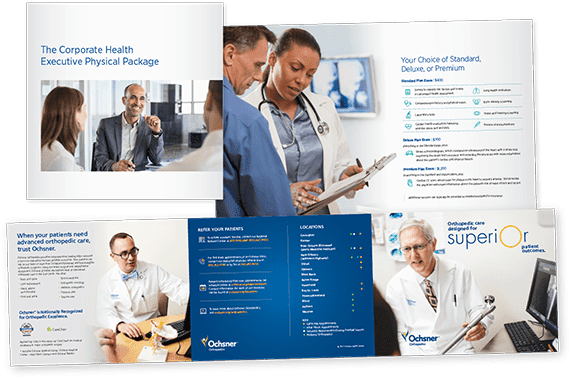 Business Development Tools
Equip your business development team with benefits-focused materials that support your sales strategies and bolster your brand.
Content Marketing
Rely on our writers to develop custom content that positions you as a trusted resource for valuable information – deepening relationships and increasing volume.
Digital Advertising
Increase patient volume with targeted, data-rich SEM, display, remarketing, Facebook, and LinkedIn advertising campaigns.
I have had a relationship with Lightstream for 4-5 years and counting.  When I moved from one health system to another, they are one of the relationships that I maintained.  I appreciate the fact that they know the industry, understand our business objectives, can craft messages that resonate with our varied target audiences – both internal and external – and support our brand positioning. It is a great benefit to me to have a reliable partner that functions less as an agency, and more like an extension of our team. Over the years, my staff has relied on Lightstream for a wide array of projects and they always bring just the right skill set. Importantly, the team brings value; costs are exceptionally reasonable which helps us stretch our budget.
— Terri McNorton, Vice President, Corporate Communications
Bon Secours Health System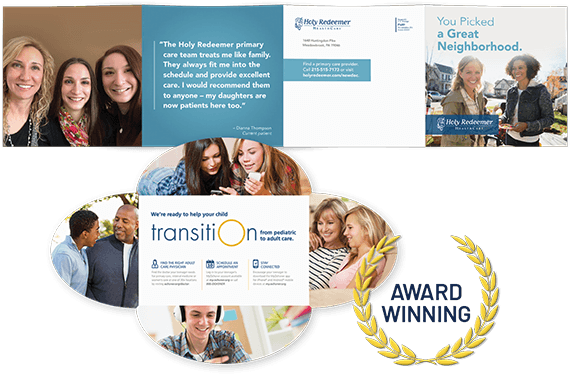 Direct Mail
Boost your ROI with strategically sound mailers that generate responses by clearly communicating the benefits of your service lines.
Integrated Campaigns
Create and execute multichannel campaigns with components that attract attention and integrate to leave lasting impressions.
Medical Practice Materials
Promote your affiliated practices and increase patient volume with materials that explain treatment options and communicate important information.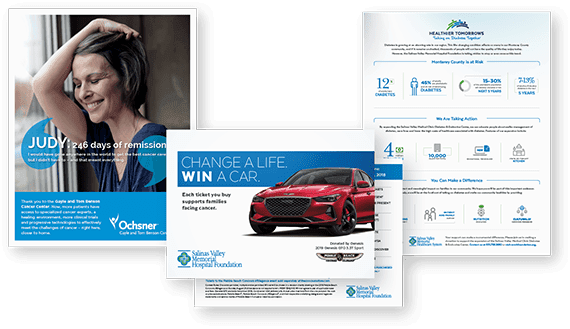 Philanthropy
Inspire giving for good among community donors and employees with impactful messaging and informative, visually appealing proof of your programs' progress.
Physician Onboarding
Help new physicians feel comfortable and be more productive faster by communicating key points about your culture, structure, processes, and procedures.
Print Advertising
Increase brand awareness and attract new members with print campaigns that clearly communicate the benefits you offer.
"I could not be more impressed and pleased with the quality of the content, the speed at which they deliver and their ability to project-manage the innumerable projects I've thrown their way. They're helpful, thoughtful, consistent and strategic. Recommend them? If I had the budget, I'd hire them full time! If you work with them, you'll be in great hands."
— Robert Johnson, Marketing Manager
Einstein Healthcare Network
Radio & Internet Radio Spots
Cut through the static by speaking directly to your target audiences during the times of day when they are most receptive.
Signage
Communicate with patients, physicians, and staff inside and outside your buildings with professionally designed signage that complements, not detracts from, your brand.
Social Media
Strengthen patient relationships with thoughtful content and responsive social media management. Attract new patients with Facebook and LinkedIn advertising campaigns.
Videos
Make the most of in-room video capabilities and online distribution channels by producing videos that increase brand awareness, drive growth, and educate patients.
Websites & Landing Pages
Form new relationships, deepen existing relationships, and increase institutional value with SEO-enhanced writing and intuitive web designs that are at home on all devices.
Penn Foundation has been working closely with The Lightstream Group to develop a digital marketing strategy as part of a year-long marketing campaign. At Lightstream's recommendation, Penn Foundation applied for and received a Google AdWords grant totaling $100,000! The Lightstream team mapped out the best way to use these free advertising dollars over a one-year time period to meet our needs. They provided us with several ad options to choose from and did not launch any ads without our consent. In addition to the development of the Google ads, Lightstream has also been monitoring the ads and making adjustments, as needed, based on keyword searches. Working with Lightstream has been an easy, smooth, truly collaborative process. The team is very responsive and has taken the time to understand the services we provide and recognize the expertise we bring to the table. It has made my job easier, and it has been reassuring to have a team of experts on my side!"
— Jen Smith, Public Relations Coordinator
Penn Foundation