When businesses think about social media marketing, most immediately see the advantages of using platforms like Facebook to speak directly to consumers. But more and more banks and credit unions are seeing just how effective business-to-business marketing campaigns can be on social media, too.
Let's take a deeper dive into why using social media should be part of any bank or credit union's B2B marketing plans. Here are 3 reasons why it works so well, and some tips for creating highly successful Facebook marketing campaigns:
1. HIGHLY TARGETED ADS GENERATE HIGH-VALUE LEADS
Facebook has the most robust targeting options of any social media platform. Much of the information it collects on its network of more than 2 billion monthly active users can be used to create marketing campaigns that reach specific groups of people. That means you can narrow down who sees your ads based on things like:
Age
Location
Gender
Industry
Employer
Job title
Company size
Salary
Home value
Travel habits
Since you are looking for decision-makers at businesses that might be interested in taking out a commercial loan or switching over their business banking, you might target people with job titles like CEO, CFO, or VP of Business Development. You could even narrow your audience further by targeting people who have switched jobs in the last year. A new CFO is more likely to want to make a mark and shake things up, so they'll likely be more receptive to hearing from you.
2. INTERACTIVE AD OPTIONS ARE MORE ENGAGING
Facebook offers a variety of options for creating interactive and engaging ads, including slideshows, carousels, and video ads. According to Facebook, these ads perform better, driving a cost per conversion that is up to 50 percent lower than a single image ad. These options help you tell your story, and show potential business bankers what your bank or credit union can offer them.
For example, you could highlight the most-used features of your online business banking, or some of the things that businesses could use a loan or line of credit for. Or, you could even tell the story of one of your customers, and how you helped them build their business.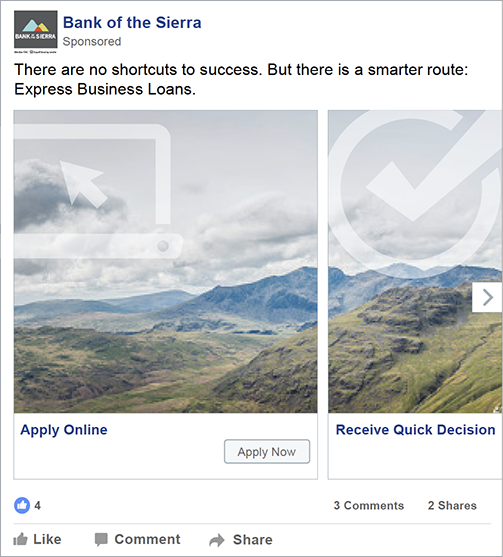 3. ROBUST DATA FROM FACEBOOK CAMPAIGNS CAN FUEL YOUR OVERALL MARKETING STRATEGY
Facebook ads can give you a ton of valuable insight into your prospective customers – and that goes for individuals as well as businesses. Testing multiple ads to see which one performs best doesn't cost much, and will help you refine your ad concepts, copy, and target audiences.
This doesn't just help you get the best results from your social media campaigns. The insight you gain from these campaigns can be used to inform your overall marketing strategy and direction, and flesh out other components of your campaigns like posters, mailers, and radio spots. This way, you know you're spending your ad budget wisely and getting the most bang for your buck.

---
Want to get more high-value business leads without breaking your marketing budget? Reach out today to learn more.